On 22 January 1879, the British suffered their worst defeat against a technologically inferior native army at Isandlwana in southern Africa. The Anglo-Zulu War of 1879 is well-known for the famous defence of Rorke's Drift, where around 140 British soldiers successfully fought off thousands of Zulu warriors. However, away from this encounter the British reasons for going to war, and their subsequent invasion campaigns, were characterised by gross incompetence and an arrogant complacency that cost them dear.
History of War issue 33 explores how the British Army were bested, not once but several times by the Zulus who defended their homeland with a powerful ferocity.
Elsewhere in a packed and varied issue there are articles ranging from WWII tanks battles, Medieval Spain and the Thirty Years' War. Discover the story of a tank battle in Normandy, when a British armoured brigade fought a fierce battle against one of Germany's leading Panzer aces known as 'The Black Baron'. Roll back almost 1,000 years as History of War issue 33 explores the truth about Spain's national hero El Cid. Meanwhile, there is a fascinating insight into life as a mercenary during the apocalyptic Thirty Years' War with the help of a remarkable diary.
Also in Issue 33:
Frontline: Fall of Rome
Heroes of the Reich: Für Tapferkeit
Fall of Jerusalem
The Briefing: Philippines in Flames
Operators Handbook: B-17 Flying Fortress
Himmler's Nazi Camelot
Artefact of War: Salamanca Eagle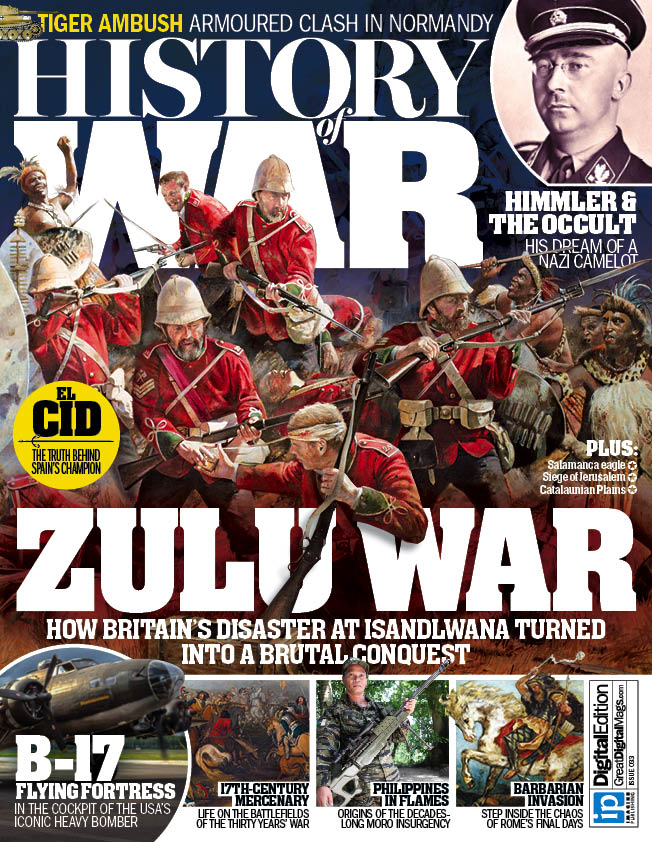 Pick up new issue of History of War or subscribe now and save 25% off the cover price.