The Commonwealth War Graves Commission (CWGC) is an intergovernmental organisation of six independent member states. Its principal function is to mark, record and maintain the graves and commemorative places of the 1.7 million Commonwealth military personnel who died during the two World Wars.
"At the Going Down of the Sun" is a photography exhibition commissioned by the CWGC that remembers people who lost their lives in conflict over the last 104 years. With its title inspired by the famous remembrance poem "For the Fallen" written by Laurence Binyon, the exhibition specifically commemorates the 100th anniversary of the end of the First World War and focuses on grave sites in the Bristol and Bath region.
"At the Going Down of the Sun" has been extensively supported by local organisations including Bristol Cathedral, Royal British Legion, Arnos Vale Cemetery Trust, Bristol City Council, Clifton Diocese, Bristol Hebrew Congregation, Weston-Super-Mare Town Council, The Flash Centre, Bath and North East Somerset Council and a number of church parishes.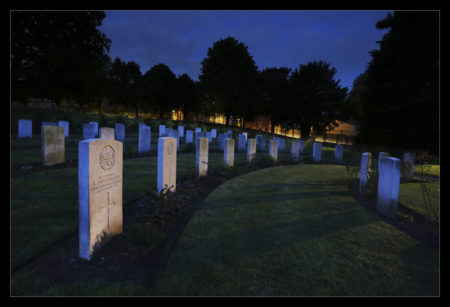 Located in Bristol's beautiful medieval cathedral, the exhibition runs between 5 September-18 November 2018 and is the culmination of a four-year photographic project by Marko Dutka. It features images of Commonwealth, civilian and enemy war graves, war memorials and air crash sites photographed between the hours of dusk and dawn. The idea of this nocturnal approach to the photographs is to not just show the graves but also the subtle indicators of contemporary human existence such as light pollution, cars, aircraft and satellite trails. These act as a metaphor for the continuing relationship between contemporary society and the people in the graves.
An extensive range of graves has been photographed and includes examples from a wide range of ages, races and faiths. One of the most important examples is the opportunity to capture female war graves that tell the stories of women as active participants, civilians and widows. Nine of the photographs are also accompanied by QR codes that provide links to oral histories. These are spoken by people who knew those who are buried.
Dutka, who has been a professional photographer for 19 years and has had previous work displayed at the Royal West of England Academy, explains why Bristol Cathedral is the perfect setting for the exhibition, "I am delighted that the exhibition will be displayed in the Cathedral. Unlike a whitewall exhibition space, the Cathedral provides a contemplative space. It also has a particular context for it is itself a graveyard and a site of memorialisation. I hope that the images show the considerable commitment by the CWGC that is required to maintain these graves and keep the memories fresh in our minds. The opportunity to raise memorials to the 'ordinary' people of Bristol within architecture that is dedicated to the 'great and good' will be a fitting tribute to their extraordinary sacrifice."
Images courtesy of Marko Dutka and the Commonwealth War Graves Commission. 
For more information visit: www.bristol-cathedral.co.uk/whats-on/at-the-going-down-of-the-sun